You are here

You are here:
Home > Unleash your Imagination - Find out how to satellite en...
GSE Blog
Unleash your Imagination - Find out how to satellite enable your project
Global Satellite Engineering (GSE) creates innovative hardware and software for the satellite communications industry designed to unleash your imagination and give you the ability to solve unique challenges and/or create new opportunities.
Imagine the possibilities when you integrate the smallest, smartest, lightest, scriptable Iridium-based terminal into your project initiatives that require low-bandwidth data connectivity!
The GSatMicro OEM is a fully programmable and customizable Iridium-based communications terminal allowing the creation and modification of scripts to expose custom behaviors and transmit data in a format dictated by your unique requirements. The GSatMicro OEM is the core building block for providing an encrypted, secure, communications channel available anywhere on the globe for both transmitting and receiving data whether on land, in the air, or at sea.
Imagine the possibilities when you are able to perform real-time analysis of data captured out in the field, control other hardware, sensors, or electromechanical components, and so many other vital tasks. Imagine the cost savings to perform critical tasks remotely instead of sending someone on location.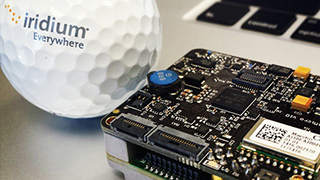 Only a few millimeters thick, the GSatMicro OEM board is equipped with an eLua powered processing engine, Bluetooth module, accelerometer, magnetic compass, I/O ports, GPS Chip and antenna port. This thin yet powerful board is stacked onto the Iridium 9602 modem, Iridium's next-generation SBD transceiver. Having this robust virtual machine on board the device allows real-time processing of scripts by compiling and executing without any external tools - allowing communication between any and all of the built-in interfaces.
All inclusive, this small "stack" weighs 42.5 grams providing a very small form factor and ease of integration into projects where size, weight, and superior functionality are critical.
Unleash your imagination with this feature rich small form factor design!
GSE's GSatMicro technology offers you the fundamental basis to create your own unique terminal or integrate into existing IoT installations. The small size and weight gives you ample options to define your own form factors. Having a completely customizable telemetry device with multiple I/O ports, 256-bit AES Encryption, power efficiency, and ability to easily integrate 3rd party devices opens up a world of possibilities!
Project Concepts
Here are some examples of what you can do by embedding components of the GSatMicro OEM:
Create wearable intelligent applications - add sensors for unique analytics. Integrate into body worn suits to monitor heartbeat distress or shock
Integrated into helmets for location and motion detection
Monitor biometric parameters
Monitor relaying waypoints
Monitor acquisition of mission-critical information in near real-time
Integrate with onboard electronics on drones or flying assets for remote command and control
Enable critical remote operations such as remote control of valves and parameter monitoring – think of the Oil & Gas environments
Track or monitor high value goods or people where power supply is limited – suggested battery performs 800 position reports before the need to recharge the battery
Connect an external Solar fixture (where applicable) to the GSatMicro for remote locations or where other access to power supply is unavailable.
Integrate into solutions where high position accuracy is a must along with over the air configuration capabilities
Wildlife monitoring where weight, dimensions and battery life play a critical role
Case Studies
Here are a few case studies demonstrating GSE's open source Iridium platform technology providing a solution based around the needs and wants of the customer:
NASA: Open source Iridium platform (GSatMicro OEM) meets the needs of the NASA LDSD project: http://www.gsat.us/community/case-study/open-source-iridium-platform-meets-needs-nasa-ldsd-project
Balloon Tracking in the Stratosphere: http://www.gsat.us/community/case-study/balloon-tracking-stratosphere
Solar-powered Iridium Satellite terminal (GSatMicro OEM) brings savings to the Oil & Gas industry: http://www.gsat.us/community/case-study/solar-powered-iridium-satellite-terminal-brings-savings-oil-gas-industry
Contact Us
GSE continues to gain an unprecedented reputation for creating versatile products designed for the rapid changes of today's technology. GSE also offers direct access to engineers that deliver the latest IoT innovations and satellite technology to help assure you uncover insight on your organization's strategic opportunities. Discovering the optimal solution for sustainable mission success, within the shortest amount of time and budget, requires decisive knowledge of current technology and how to effectively leverage the technology in your best interest. Let us help you imagine your possibilities. Give us a call today at 954.459.4000 or email us at sales@gsat.us.