You are here

You are here:
Home > Feature Highlight: GSatTrack - Single Sign-On for Mobil...
Feature Highlight
Feature Highlight: GSatTrack - Single Sign-On for Mobile Devices

GSatTrack has dedicated mobile apps for tracking the most popular mobile devices – iOS and Android phones and tablets. Both apps can be downloaded from the appropriate app store – either Google Play or iTunes by simply searching for GSatTrack.
These mobile apps have been published for a while now and allow you to track specific mobile devices on the GSatTrack platform.
Past vs Present
What's new (and interesting!) is that we now support tracking mobile users instead of just mobile devices.
In the past, when you wanted to set up a mobile device for tracking, you would download the app, login with a portal user credential, and follow a series of prompts on the device to register it with the associated account. Now, a portal administrator can create a mobile account and supply a mobile user with credentials to log in to the app instead. Any device using those credentials is automatically linked to the created asset and it will continue to track across multiple installations, or even when swapping devices altogether.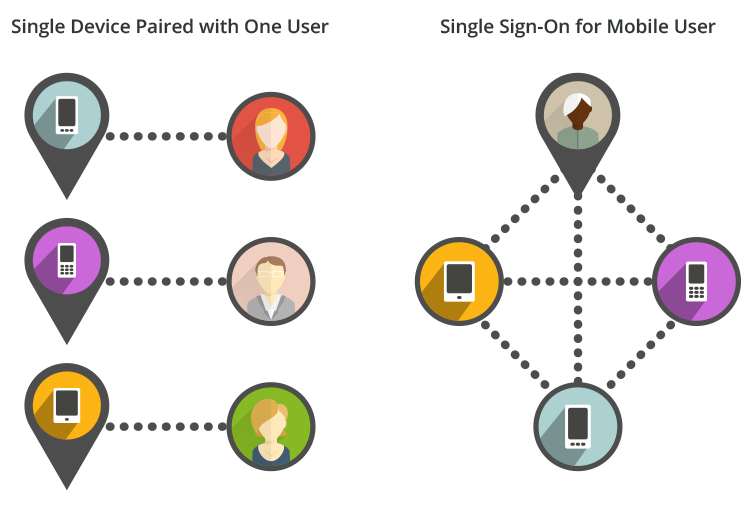 Enhance Security. Save costs. Become Efficient.
Managing assets in the field becomes more secure, since no portal login credentials are shared with the user or even stored on the device itself. If your smart device is ever lost and unretrievable, simply sign on to a different device to disable tracking of the old device and secure the account.
Moreover, it reduces portal clutter and licensing costs – a single asset can effectively track multiple devices. This decrease of licenses significantly reduces the cost of multi-device users. Additionally, the cost of merging historical data from old devices to new devices is eliminated from being an expense.
This feature allows administrators to set up tracked assets ahead of time and prevents the headache of managing mobile assets when it comes time for tracked individuals to upgrade their phones or swap devices for whatever reason. Portal operators can take advantage of an organized asset list because they no longer have to rely on the end user naming their asset properly. Tracked individuals don't even have to request anything from the administrator when changing devices – they simply log into the new device, and tracking continues seamlessly – no additional prompts or communication is necessary.
When shouldn't you use a mobile account?
When your goal is to track a specific piece of hardware and not an individual. If you needed to keep track of the location of the phone, regardless of the person using it, then you would be better served not assigning a mobile account to it and instead have one asset per physical device.
How to create a Single Sign On (SSO) mobile account
To setup a mobile account, simply add the user as an asset as you would normally. You can choose Android, iPhone, or Windows Phone as the device type for the user (it doesn't technically matter – the portal will recognize the actual device type when connected) and you'll be prompted to enter a Mobile username and password: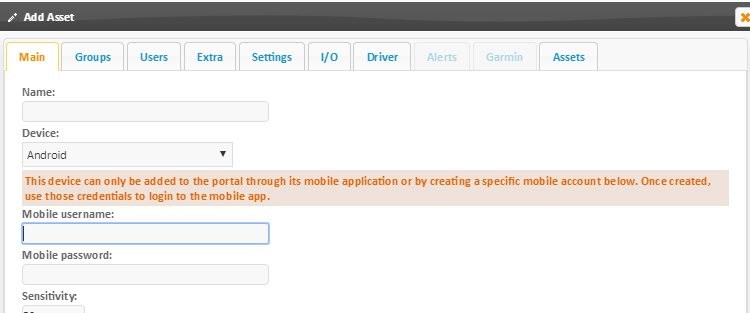 You'll also want to check any assets that you want to show up in the mobile app's address book for messaging via the Assets tab at the end of the dialog:

Once the asset is set up, the tracked user will then simply enter those same credentials you assigned from within the mobile app. No additional prompts will be necessary to complete; tracking will begin immediately and will be linked to the asset you created with those credentials.