You are here

You are here:
Home > Effective fatigue management anytime, anywhere using Du...
GSE Solutions
Effective fatigue management anytime, anywhere using Dual-Mode Satellite-Cellular

Aviation
Rotorcraft
Space
Agriculture
Broadcasting
Construction
Emergency Response
Energy
Forestry
Gas
Heavy Equipment
Mining
Oil
Scientific Research
Security
Transportation
Drug Enforcement
Infrastructure
Military
Police
Public Transit
Fishing
Leisure
Merchant Shipping
Safety and productivity in the workplace primarily depend on employees' health. The road transportation industry in particular, has various hazards that potentially impact the psychological as well as the physical well-being of drivers. Shortage of quality sleep, night time driving, working and being awake for an extended period of time are the key causes of fatigue. It has been discovered that being fatigued significantly increases the risk of an accident. It makes us less aware of the situation on the road and reduces our ability to respond safely and promptly if a critical situation occurs. Driver fatigue is thought to contribute to more than 30% of road accidents and it is very important to effectively manage these hazards to ensure the safety of people on the road as well as cargo safety.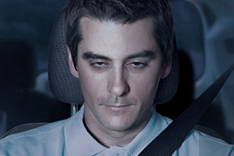 While on duty, it is extremely difficult for drivers to adequately assess their own degree of fatigue. On one hand, as you get more fatigued, the ability of self-assessment becomes progressively impaired. On the other hand, the self-confidence in this ability remains the same. The symptoms of fatigue are the following: drifting in the lane, yawning or rubbing eyes, slower reaction time, poor judgement, inability to keep the eyes open, trouble focusing, head nodding and others.
Since fatigue impairs decision making abilities as well as mental processing, motor vehicle operators often fall into a "short-time-sleep" while driving without even noticing. Although these events last only for few seconds, they actually may occur while there are needs to perform critical operations such as turning the steering wheel, responding to traffic control signals, control speed regime or give way to other road users. Road accidents that occur because of drivers' fatigue usually involve multiple vehicles that collide into each other and may also get other objects involved such as road signs, pedestrians or trees. The consequences of road accidents may be devastating, causing damage of surrounding infrastructure, loss of cargo and motor vehicles, or even death of people.
Top-Notch Fatigue Detection Technology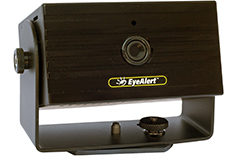 GSE (Global Satellite Engineering, Inc.) has developed a customizable 'Fatigue Management Solution' which can also be deployed with existing fleet management applications. It provides real-time driver fatigue monitoring using the EyeAlert System, tracking, driver communication, navigation along with dispatch capabilities using a Dual-Mode Satellite-Cellular terminal.
---
Always-On Fatigue Monitoring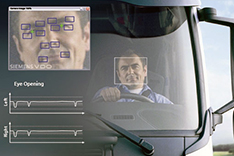 Our solution may save the lives of many because it has been designed to react to research verified physiologically dangerous fatigue levels regardless how long the motor vehicle operators have been driving. When the infrared camera monitors operator's eye closure rate and duration – it never goes to a sleep mode and when the operator start exhibiting unsafe patterns, it produces an audio warning or an alarm.
Behavior Monitoring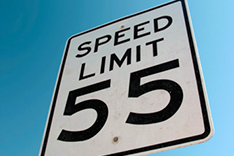 The system is also capable of monitoring the vehicular speed and warn the operator to drive slower when speeding events occur. Optionally, the solution may be configured to take a picture on such events, save them in non-volatile memory or transmit over-the-air to competent personnel for further actions. Our solution also allows to poll over-the-air information about fatigue events, last taken pictures as well as other vital information.
Reducing the probability of road accidents and optimizing the fleet management process helps fleet owners in a highly competitive environment. Our integrated Fatigue and Fleet Management turn key solutions effectively help to create safer working environments for personnel, ensure driver and cargo security, optimize travel routes, increase utilization of vehicles, and reduce cost for fuel and maintenance.
IDP-782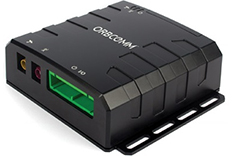 Dual-Mode Satellite-Cellular terminals deliver connectivity to assets more effectively. When cellular networks are not available, data will be routed via Inmarsat's IsatData Pro satellite network, and over GSM network inside cellular coverage, which allows reduced costs on the airtime. Since the IsatData Pro satellite network offers real-time service, is consistently available throughout the globe regardless of the local on-ground infrastructure presence, as well as being invulnerable to weather conditions, it makes it preferable as an alternate communication channel in those areas, where cellular networks are not available, including near polar regions. By selecting our solution, fleet managers have the ability to continuously monitor and manage their personnel and assets regardless of location.
Fatigue Monitoring Ecosystem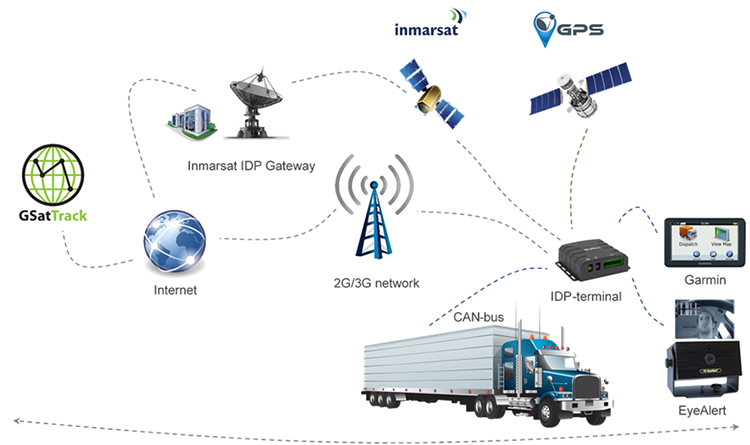 GSE's 'EyeAlert Monitor IDP' service provides interface between the GSatTrack Fleet Management Platform and the 'EyeAlert Fatigue Management System'
---
How GSE's Fatigue Management Solution Works:
The GSE Fatigue Management Solution consist of two main software components: GSE's EyeAlert IDP Embedded Service - EyeAlert Monitor and the GSatTrack Fleet Management Platform.
EyeAlert Monitor
EyeAlert Monitor is installed on the IDP-782 Dual-Mode Satellite-Cellular terminal and it enables it to communicate with, or fully control the EyeAlert Fatigue Management System via RS-232 connection. Ones installed, the service provides the administrator an over-the-air interface between the GSatTrack Fleet Management Platform and the EyeAlert System.
EyeAlert Monitor service offers a comprehensive interface for integration with other services to support additional functionality and perform custom operations (e.g. utilization of geofences to control audio speeding warnings and etc).
GSatTrack
The GSatTrack Fleet Management Platform provides full access to IDP terminals over-the-air and allows to perform the following operations with the EyeAlert Fatigue Management System:
Verify connection between the IDP terminal and the EyeAlert System;
Configure fatigue event alerts;
Set/get minimum and maximum speed thresholds for fatigue detection purposes as well as for local audio warning signals;
Request last alarm or immediate picture of the driver;
Control behavior of the EyeAlert Monitor service over-the-air;
Modify content of messages transmitted either over the cellular or satellite networks;
Due to the nature of the solution, additional features and functionality may be added upon individual projects requirements, regulations or user requests.
Managing the data with GSatTrack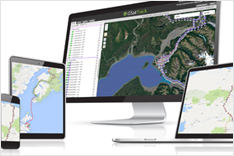 GSatTrack, our feature-rich Universal Tracking Platform is a major component of the Fatigue Management Solution. It provides full control over the fatigue detection, data delivery, alerts and warnings generation. GSatTrack allows users to view pictures that were taken when fatigue events are detected. It also permits users to request current or last alarm pictures of drivers and many more.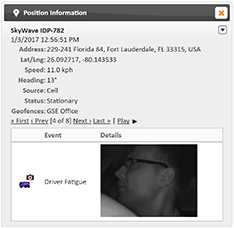 GSatTrack is a web based integrated satellite and GSM tracking solution, compatible with modern web browsers and works on a multilingual platform that brings together all the positions of every manufactured product under one location and displays and manages them in a single unified interface. With GSatTrack, fatigue events, asset locations and movements including position, speed, altitude, heading and timestamps of events are tracked in real-time worldwide via GPS updates. Our technology allows you to merge together various types of tracking equipment, including Dual-Mode Satellite-Cellular terminals into one multifunctional easy to use platform. The tracking equipment determines its location by triangulating a position using GPS (Global Positioning System) as well as captures various vital events and then transmits this information via GSM or Satellite to a central server for processing. Any operator can view and control any number of real time assets simultaneously.
Feature Hightlights of GSE's Fatigue Management Solution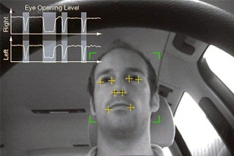 Continuous monitoring, regardless whether it is dark or sunny;
Performs monitoring whether a driver is wearing contact lenses or prescription glasses. Able to detect open but sleepy eyes;
Intelligent high-speed recognition. The system will automatically raise the alarm sensitivity on expressways;
Automatic sensitivity control, when the driver barely moves, the system will automatically raise the sensitivity;
The EyeAlert System will remind the driver before entering a dangerous driving status and it will give an audible alarm to remind the driver take a rest;
The 'GSE Fatigue Management Solution' is also capable of detecting a distracted driver, such as talking with passengers, adjusting dashboard controls, reading, texting, picking up items;
Upon detecting signs of fatigue or distraction, the 'GSE Fatigue Management Solution' issues an audio warning to the driver to "Pay Attention to the Road" while simultaneously sending a message including an immediate picture of the driver to the the server.
Safety and productivity in the workplace primarily depend on employees' health.
GSE Fatigue Management Solution
Published on 13 Feb 2017
Safari users may view it here: View in full window